Here are my most Frequently Asked Questions
HOW MUCH ARE YOUR KITTENS?
Kittens are priced at $1450 each. Josie's Cattery needs a $250 deposit (non-refundable) if you wish to purchase a kitten
DO YOU SELL FOR BREEDING?
Please note that we do not sell for breeding!
WHAT IS A HOLDING DEPOSIT?
Deposits put on kittens before 7 weeks of age are called a HOLDING DEPOSIT. These deposits are fully refundable up until the kitten is 7 weeks old. This allows the owner to see the kittens grow. It also gives Josie's Cattery the opportunity to take the kittens to the vets for a vet check, vaccinations and worming. The owners can then visit their kittens (and any other available kittens) after the vet visit/vaccinations. We do not hold kittens without a deposit!
WILL MY KITTEN HAVE BLUE EYES?
All kittens are born with blue eyes. Depending on what colour your kitten is (and who the parents are) kitten's eye colour changes around 8 weeks of age.
Pointed cats always have blue eyes and Mink cats have blue/aqua colour
Other cats can only have green, gold or copper eyes
*The most common eye colours are in the middle of the eye colour spectrum (greenish-yellow to gold)
WHY DO SOME DEVONS LOOK BALD?
The Devon Rex coat varies a lot within the breed. Some a very well coated and others don't have much coat at all.
Kittens do however lose a kitten coat at around 9-10 weeks of age which makes them look bald. They will grow back their coat. The best indication on how well coated your kitten will end up being is look at when they are first born.
Please note: that kittens with less hair tend to turn out patchy when they reach the adult stage
WHAT IS THE DEVON REX STANDARD?
Every breed has a standard. To see the Devon Rex standard. Please refer to the CFA website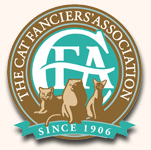 (www.cfainc.org/breeds/standards/devon.html)
DE SEXING KITTENS
Josie's Cattery's kittens are de sexed by our vet before leaving
HOW DO I PUT A DEPOSIT/PAYMENT TO YOU
Josie's Cattery needs a $250 deposit if you wish to purchase a kitten. Depending on what is easiest for you to do; I except bank transfer, money order or Personal cheques.
I can not hold a kitten unless it has a deposit and Kittens do not leave my cattery unless the money has cleared.
WHAT IS A HOLDING DEPOSIT?
A holding deposit is deposit that allows the purchaser to picks and/or states what they are after. If they are after a pointed or mink kitten; a holding deposit is put on that kitten until it is 3 weeks of age; which gives us time to work out what colour he/she will be. The purchaser then has the option to buy that kitten.. or they can be fully refunded.
CAN I VISIT THE KITTENS?
We are unable to offer "open tours" of our cattery. This is a hobby for us and this is our home.
However, serious buyers from approved homes are invited to visit the kittens after their first vaccination (between 7-8 weeks of age)
HOW OLD ARE THE KITTENS WHEN THEY LEAVE JOSIE'S CATTERY?
Kittens are generally picked up at 10-12 weeks of age. However I will hold a kitten back if I feel they are mature enough to leave my cattery
KITTENS TRAVELLING INTERSTATE
Josie's Cattery is happy to sell kittens to people interstate. However all freight costs are paid for by purchaser. I can put a notice on my website if you are interested in sharing travel cost with another person.
Kitten's flying interstate will need to be travelling in a PP20 (with Bolts in each corner)




When ringing companies for freight. PLEASE ring around as they vary so much in prices!
Also let me know what your price is that you were quoted and I will see if I can get it cheaper for you
WHAT COLOURS CAN YOU GET IN DEVON'S?
You can get any colour in a Devon. Please have a look on my gallery pages for different colours
WHAT IS A POINT OR COLOUR POINT?
Point or colour point refers to animal coat coloration; with a pale body and relatively darker extremities, i.e. the face, ears, feet and tail. It is most recognized as the coloration of Siamese and other breeds of cat, but can be found in rabbits, mice and horses as well. Pointed kittens are born white and as the kitten ages, the areas darken. Pointed cat can be any of the following colours red, cream, blue, lilac Chocolate or seal point. It is also possible to have a tortoiseshell or tabby (Lynx) point. Pointed cat's eyes are always some shade of blue.
WHAT IS A SI REX?
Also know as Pointed or Colour point (see above)
WHAT IS A MINK OR MASKED?
Mink cats are simply a colour of cat. Mink Devon's come in the traditional pointed colours, but appear richer in colour. There is very minimal contrast between the point colours and the warmer areas of the body. The eye colour of the mink cats is normally aqua, which is a greenish-blue. When a mink kittens is born, they are not born white like pointed kittens. The minks are born with a little bit of colour, and it darkens with age.
EXAMPLES OF POINTED & MINK
Picture on the left is Sara (Blue Point) & Leah (Chocolate Mink)
Picture on the right is Kremlin (Blue Mink) and Minnow (Blue Point)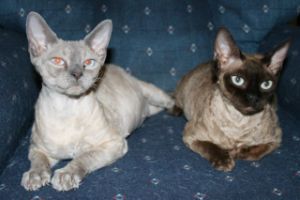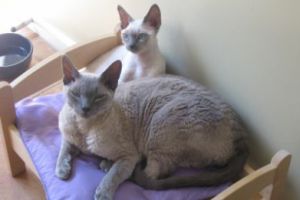 WHAT IS A SMOKE COLOUR?
Smokes have white undercoat. May take some months to tell which kittens will be smoke because the full coat colour is sometimes not seen until the adult coat comes in at 2 years
WHAT IS A BI COLOUR?
A bi colour cat has white fur combined with fur of some other colour. There are various patterns and colours of bi colour cat. See different bi colour patters below.
Bi-colours can have the tabby pattern show up on the coloured patches of their coat. Tortoiseshell cats sometimes display a pattern where the three-coloured tortoiseshell pattern is mixed with tabby markings. These cats are known as "torties".
ARE THERE DIFFERENT TYPES OF TABBIES?
The tabby cat has a distinctive coat that features stripes, dots, or swirling patterns, usually together with an "M" mark on its forehead. There are four tabby patterns that have been shown to be genetically distinct: mackerel, classic, spotted, and ticked.
Example of these patterns can be seen below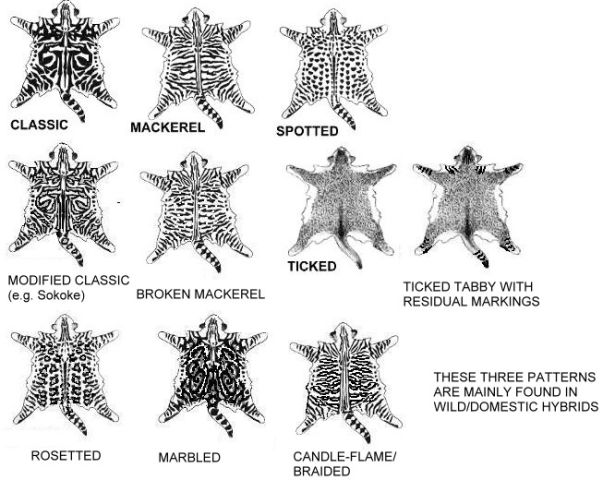 ARE TORTOISESHELL CATS ALWAYS FEMALE?
Tortoiseshell cats are almost always females. The reason for this is their (sex-linked gene) chromosomes. If you ever find a male tortoiseshell cat; he will be almost always be infertile.
WHAT IS YOUR MAILING LIST/WAITING LIST
If you are interested in a particular kitten; e-mail me and let me know what you are looking for and I will put you on our mailing list
When a litter of kittens come available with a kitten that you have been waiting for; I can pop you an e-mail and let you know
If you would like to go on this waiting list you can e-mail me with you details to: jodiethexton@bigpond.com
CONTACT INFORMATION
Phone: 03 9735 3009
Mobile: 0409 211 393
E-mail: jodiethexton@bigpond.com